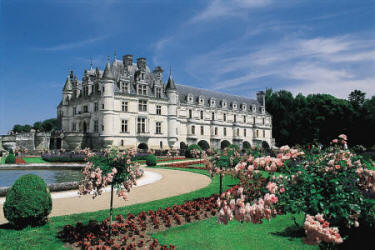 Beautifully located at Chenonceaux village in Loire Valley, France along the Cher river, Chenonceau Castle or Chateau de Chenonceau is one of the most amazing ancient castles in Europe which had been the object of fascination among globe trotting personalities. Aside from the Palace of Versailles, Chenonceau is one of the most visited royal edifices in France.
The castle passed through many monarchs since its construction in the 11th century and not to mention, owners. One of its noted owner was Thomas Bohier, the Lord Chamberlain of King Charles VIII of France. It was seized by King Francis I as Bohier's son was in heavy debt. Since then the history of this castle had been wrapped with mystery and intrigue among the lives of several women on the French monarchy. Mistresses and French Queen Consorts highlighted the colorful history of Chenonceau Castle.
The castle has a beautiful landscape of trimmed garden, flowers and neatly arranged plants. Its reflection at Cher River at night provides romantic and fascinating view to visitors. It features the garden of Queen Catherine (consort of King Charles VIII) and the bedrooms of four other Queen Consorts: Queen Margot, Queen Elisabeth, Queen Louise and Mary, Queen of Scots who, at 16, became the wife of King Francis II. For travelers who want to visit Chenonceau, a bus ride from Paris, France is one of the most convenient and cheaper ways to go to Chenonceaux Village in Loire Valley.